If you're looking for delicious, premium quality Tsukemono (Japanese pickles), using only the best seasonal vegetables, you've come to the right place.
All of our products are prepared with care, by hand. Perfect as a snack, as a side dish to a meal, or sent as a gift to family or friends. We look forward to receiving your order.
What Makes Mozume Tsukemono Special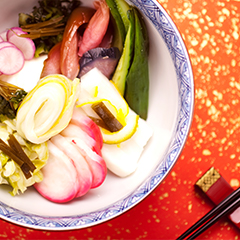 All of our products are handmade .
We use only the freshest, seasonal ingredients.
We specialize in Kyoto Tsukemono, using Kyoto vegetables.
Health Benefits of Tsukemono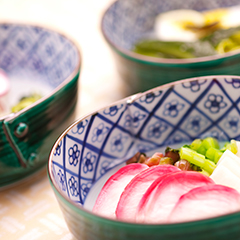 Tsukemono is renowned for its many health benefits.
It contains dietary fibre, as well as many vitamins and minerals, and is a staple of the Japanese diet.
Traditional Types of Tsukemono

Shibazuke
Shibazuke is a type of pickles, native to Kyoto, that is made by pickling cucumber, eggplant,etc.
in plum vinegar(umezu). The end result is a salty,slightly sour finish.

Suguki
Suguki is a mild, salty type of pickle, made with a turnip called Sugikuna.

Senmaizuke
Senmaizuke pickles are made using Shogoin turnips.They have a slightly sweet finish.
Storing and Consuming Tsukemono
In order to ensure optimal flavor and quality , we recommend refrigeration as oppose to freezing.
After opening, please place leftover Tsukemono in a resealable bag container.
Tsukemono should be consumed within one week from time it is delivered.
Contact
If you have any questions about our products,
please do not hesitate to contact us using the below form (fields containing a"*" are mandatory).
(* = required fields).